---
Florian Böhm

· Fratelli Bassetti Tessuti

Color photography (2012)

Reproduced on 100% Silk · Limited Edition of 100 · Size: 107 X 138 cm
---
SKU: 120517
Dimensions: 0 cm × 138 cm × 107 cm
Created on the occasion of AltaRoma 2012 "Les Objets Singulier" exhibition at Galleria Ugo Ferranti, Rome curated by Emanuela Nobile Mino. Bassetti Tessuti (tr. Fabrics) is the Rome's largest fabric store opened in 1954 by the brothers Emidio and Lorenzo Bassetti and now run by their children, Carlo, Antonio and Nicola. Bassetti has been furnishing for years textiles to the most iconic and top Italian tailors, couture houses and designers like Versace, Valentino, Lancetti, Gattinoni, etc.. Florian Böhm researches for Filed Under / Roma brought him among the thousand of fabrics of any color, shade and texture recorded on the shelves of Bassetti family's business rooted in the heart of the city. In one of the rooms, packed from floor to ceiling with bolts and bolts of fabric, Böhm shoot a series of photos portraying expressive details of the huge textile archive. The most attractive - the one which frames a unit out of the infinite archive aligning different brand labels - has been printed on the silk scarf to embodying a sort of hybrid accessory ideally collectively signed by all the fashion Italian designers quoted, some of whom are still iconic, some other are outdate, some are real vintage goody, but all of them greatly represent the roman fashion culture, tradition and heritage - as well as the Colosseum - historically based on the eclectic mix of modernity and craftsmanship. (Text: Emanuela Nobile Mino)
Florian Böhm's works were exhibited at Haus der Kunst, Munich, Storefront for Art and Architecture, New York, Fondation Cartier pour l'Art Contemporain, Paris, Kunstwerke, Institute for Contemporary Art, Berlin, and Fondazione Adriano Olivetti, Rom. He is co-founder of the project EndCommercial® / Reading the City, a visual record of modern urban life widely acclaimed in journals and papers such as the New York Times, Domus, Art Forum, and Kunstforum International. The project contains over 60.000 images, and established a new visual vocabulary to describe our urban experience.
In the new photographic series Wait for Walk, Florian Böhm expands the typology of the urban area with an anthropological look at city people, in the form of studies of fluctuating, transient constellations of passers-by waiting at intersections in New York. The sidewalk becomes a stage on which the pulsating activity of the metropolis comes to a standstill for a brief moment and the flow of traffic the shutter curtain.
Böhm's publications as editor or author include KGID Konstantin Grcic Industrial Design (Phaidon Press 2005); Commedia dell'Arte – Couture Edition (Birkhauser 2009) and Wait for Walk (Hatje Cantz 2007).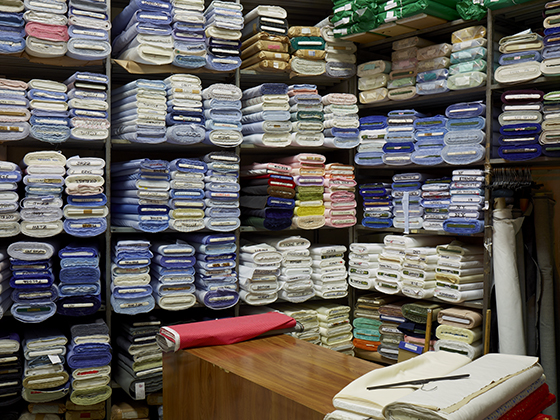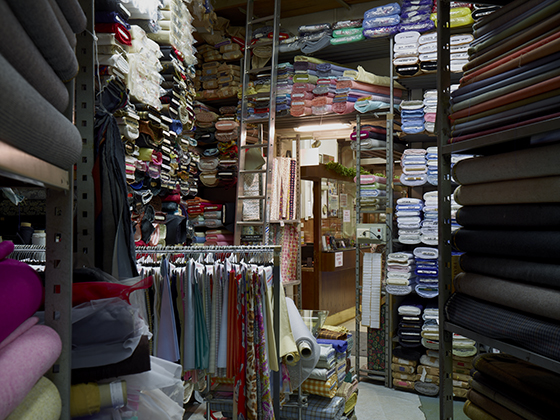 Interior views at the textile store Fratelli Bassetti Tessuti in Rome.