---
Luca Pizzaroni

· You Gonna Like the Way You Look

Color photography (2008)
Reproduced on 100% Silk · Limited Edition of 75 · Size: 107 X 129 cm
---
SKU: 110401
Dimensions: 0 cm × 129 cm × 107 cm
For the past ten years, New York City's Lower East Side has been undergoing a rapid gentrification process. Today most of the fabric merchants, tailors, shoemakers and other Jewish-owned businesses from the Lower East Side have disappeared. The past has been replaced by fashionable bistros, trendy boutiques and shiny new condos.
As part of our interest in the importance of fashion in gentrification we selected a photograph by Luca Pizzaroni showing a rack of mens suits in one of the last traditional clothing stores in this area.
"We are in Lower East Side, Manhattan, in one of the last Jewish clothing shops in historic Orchard Street. Global International Men's Clothing is found here in rows of elegant jackets in ranges of soft shades in gray, blue and beige. The labels hang lifelessly from the sleeves, brands and prices remain a secret. It comes across almost as if these classic men's suits are waiting in a line, trapped in front and behind by the crowds, abandoned by the wearers or waiting for the right person.
The disparity of life's realities in the globalized world is what fascinates artist Luca Pizzaroni, and it features in a majority of his works. What chance is there for the American Dream in today's society? Who does it come true for, and what might that still mean? For Pizzaroni, this global myth is a drug that the world revels in and gets high on. The dealers are Hollywood and TV - series such as Dallas or Starsky & Hutch. The buyers are worldwide in every one of us.
As in his photo-documentary series Avenue of the Americas or The Label Project, here too Pizzaroni, who is of Italian descent, endeavors to take us behind the scene of the myth via the example of the booming metropolis of New York City. In Sam Gluck, the owner of the Jewish men's store in the now strongly gentrified Orchard Street, he has found a relic of an increasingly threatened dream in the symbol of closely arrayed men's suits. Pizzaroni is almost offering us the empty shells of prosperity, i.e. what is left, in the style of Christian Boltanski. Unlike French artist Boltanski, however, Pizzaroni's work is not imbued with melancholy for the past but demonstrates a critical (but not necessarily mournful) eye for what is still to come …" (Text: Annabelle Hirsch)
Luca Pizzaroni lives and works in New York City. He is represented by the Fred Torres Collaborations. Apart from exhibitions in New York, his works have been exhibited in Europe, at Kunst-Werke in Berlin and the Fondation Cartier pour l'Art Contemporain in Paris.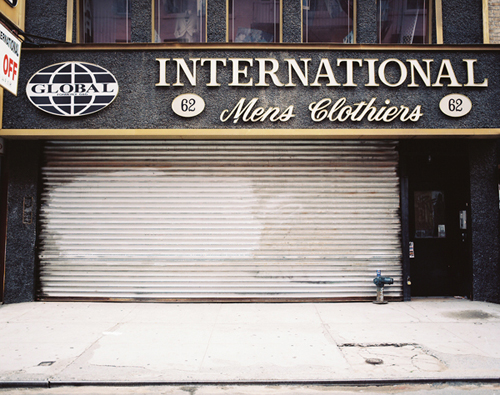 Storefront "Global International Mens Clothing", Orchardstreet 62, New York